National Shows 2018
The 80th Jubilee Show, "Dahlias d'Vine"
Hosted by The Marlborough Horticultural Society
Held at St Mary's Hall, Francis Street, Blenheim
17th.18th February 2018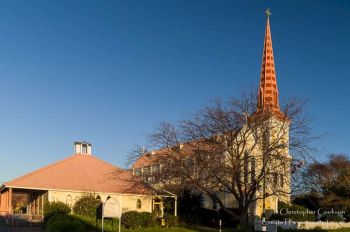 Blenheim is situated in the heart of wine-growing Marlborough on New Zealand's South Island. Mountains frame the area and trap the summer heat (temperatures over 30°C are quite normal in February and March). It is one of the sunniest towns in New Zealand, with an estimated average of 2,438 hours of sunshine a year. It's known as a gateway to the wineries of the Wairau Valley to the west. In town, the Marlborough Museum chronicles the development of winemaking, plus early Polynesian settlement of the region. The Omaka Aviation Heritage Centre houses filmmaker Peter Jackson's collection of World War I aircraft, displayed in sets re-creating their flight history. In and around Blenheim you'll find a pleasing selection of cafes, restaurants, bars, shops, artisan food outlets and golf courses. There are more than 30 wineries within driving distance of the town, and most of them welcome visitors for sampling sessions and cellar door sales. Character accommodation is a Blenheim speciality.